12 BBQs In Stock For Click & Collect Today From £3! (READ POST)
Available from LatestDeals.co.uk
£3
101 people like this deal
Get Deal
Description
READ BELOW FOR LINKS: Please click the bold blue highlighted links to see the individual deals
The bank holiday weekend is finally here and it has given great weather for most of us so why not have a BBQ and make the most of the weather seeing as we can't go out to dinner?
Sausages, burgers, kebabs, chicken, corn on the cob, vegetables and even pizza can be cooked on the BBQ so why not experiment with something different.
All these are in stock to reserve and click and collect today or tomorrow. If they are out of stock, just move on to the next one until you find one suitable in stock in your local area so you don't have to go in and out of lots of shops and find they are out of stock.
Top Tip - Get one of these for a charcoal BBQ, makes it so much easier to start the BBQ and only £10!
Blooma Charcoal barbecue starter - £10 B&Q
Diall Charcoal Disposable Barbecue - £3 B&Q
Disposable barbecue is perfect for on the go last minute barbecues
Grill dimensions: 290mm x 240mm x 40mm
Included: Grill tray, cooking grill, charcoal & wax paper
Diall Charcoal Party size disposable Barbecue - £7 B&Q
490mm x 50mm
Sommen Black Charcoal Bucket Barbecue - £9 B&Q
Cooks for up to 4 people
Feet help raise the bucket off the ground
The carrying handle makes it easy to move
The enamelled firebox is easy to maintain
Home 35cm Round Charcoal BBQ - £10 Argos
Constructed from steel.
Overall size H50, W35, D40cm.
Size of cooking area 35 x 35cm.
Kembla Green Charcoal Barbecue - £21 B&Q
(H)630mm x (W)515mm x (D)493mm grill size
Included: Carry belt & hook
Barren Black Charcoal Barbecue - £24 B&Q
Grill dimensions: 550 x 390mm
Cooks for up to 6 people
Black Trolley BBQ Grill - £25 Dunlem
This BBQ comes with two wheels for easy transportation and two wooden tables for extra workspace
W 41cm x L 3cm x H 85cm
Home Oval Steel Trolley Charcoal BBQ - £40 Argos
Overall size H87, W98, D48cm.
Size of cooking area 38 x 53cm
Home Charcoal Oil Drum BBQ Cover & Utensils - £50 Argos
Comes with 3 utensils (tongs, a fork and a spatula) you've got everything you need to sizzle and sear this summer. It also comes with a protective cover for when it's not in use..
Warming rack.
Overall size H90, W93, D64.5cm.
Size of cooking area 35 x 71cm.
George Foreman 48cm Kettle Charcoal BBQ - £70 Argos
Includes ash catcher.
Overall size H90, W60, D71cm.
Diameter 48cm.
Size of cooking area 48 x 48cm.
Home 4 Burner Gas BBQ with Side Burner - £120 Argos
Pay Extra £3.95 and get same or next day delivery
4 burners.
1 side burner.
Flame tamer.
Warming rack.
Electronic ignition.
Overall size H97, W118, D55.5cm.
Size of cooking area 33 x 64cm.
LatestDeals.co.uk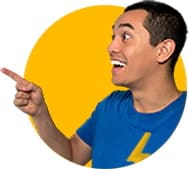 Tom's Tips for LatestDeals.co.uk