What Are The Best Debit Cards?
Available from LatestDeals.co.uk
13 people like this deal
Get Deal
Description
I thought I would do a round up of the best debit cards that you can currently get and the benefits of each one all in one place so you can see which one is best for you and make a decision.
Some are great if you want to send money abroad fee free or if you buy from Non UK based retailers and don't want to pay a transaction fee like buying on Amazon France, Spain, Italy etc as you can get some really great deals from them and use the translate button to see everything in English too - simple!
Voted best British bank and current account provider in 2019 and a 4.5 / 5 Trust Pilot rating. Starling does NOT charge for Foreign ATM withdrawals up to £300 per day - great if you travel a lot as some banks charge a fee and up to 3% of the transaction.
Fee-free spending. Use your debit card at ATMs on holiday at no extra cost from them.
Spare (ex)change. With Starling, you've got the benefit of real exchange rates, so you'll get more for your money abroad.
Real-time notifications Whenever a payment leaves or enters your account, we'll let you know immediately – in both currencies. No more second guessing.
Travel loans Covering your travel costs with a Starling loan means an interest rate that's tailored to you with no hidden fees.
Speedy set-up Download the app and apply for an account in minutes.
24/7 support Starling's on hand, wherever and whenever you need us. We provide round-the-clock customer service via the app, email or phone.
Fully protected We're a member of the Financial Services Compensation Scheme, so up to £85,000 of your money is fully covered.
Deposit money into your Starling account at any Post Office. So, you've basically got 11,500 Starling branches at your disposal (versus the 7,500 regular UK bank branches. Just saying.)
Competitive interest rates on current account balances. 0.5% AER up to £2,000 and 0.25% up to £85,000, to be precise.
Round up transactions to the nearest pound, put the change into your savings and before you know it, you'll have a nice pile of extra cash without even trying.
Pop your cheques in the post and we'll deposit them for you. No need for a stamp – it's completely free.
Banks will charge you when you spend or transfer money abroad. We're not about hidden fees or rubbish exchange rates, and that's why 8M+ people already use Revolut
OPEN AN ACCOUNT IN MINUTES
Opening an account with us takes just minutes, and because we don't believe in branches, you can set one up directly from your phone.
BUILT-IN BUDGETING
We'll show you exactly where your money is going each month, and even let you set up monthly budgets for things like restaurants and groceries.
STASH AWAY YOUR SPARE CHANGE
Round up every card payment to the nearest whole number, and we'll stash your spare change away for you to put towards your goals.
INSTANT SPENDING NOTIFICATIONS
We'll send you a notification the second you make a payment with your card, even before the receipt has finished printing.
SPEND ABROAD
We don't believe in financial borders, so it's only fair that we let you spend abroad in over 150 currencies with the interbank exchange rate, with a small 0.5% fee for anything above £5,000 each month. A flat mark-up on weekends and on certain currencies may apply.
WITHDRAW MONEY ABROAD
Although ATM withdrawals cost us money, we give you £200 a month in international ATM withdrawals for free. Anything over £200 attracts a small 2% fee to help us cover our costs.
FREEZE AND UNFREEZE YOUR CARD
If you lose or misplace your card, freeze it within the app and we'll have a new one sent out to you. If you find it again, just unfreeze your card from the app.
CONTROL HOW YOUR CARD WORKS
Take control over your account and turn off things like contactless, swipe payments, online payments and ATM withdrawals all from within the app.
LOCATION-BASED SECURITY
Turn on location-based security and, if your card is used in a different location from where you are, we'll automatically block any payments and let you know.
Get paid... a day early!
Put your salary into Monzo and we can advance you the cash one day early. No cost, no hassle. Just more time with your money.
Salary Sorter
Sort your money between savings, bills and spending in a few taps. All your money neatly separated so you can't overspend, but still under one roof.
Bills Pots
Pick a Pot to pay bills from, so you can't accidentally spend the rent. When a bill is due, we pay it from the Pot for you – easy.
Save
Earn up to 1.35% (AER/Gross fixed) interest on your savings. That's on a 12-month fixed Pot with a £500 minimum deposit to open. (Fixed means the money will be locked away for 12 months while you earn interest on it.)
We offer easy access savings too, which let you get your money the next working day.
Manage
Pay Direct Debits through Monzo and we'll tell you if they're higher for the upcoming month. So no nasty surprises.
Spend
Get instant notifications the second you pay. Set budgets for things like groceries and going out, and get warnings if you're spending too fast (if you want them)
Travel
Use Monzo anywhere in the world that accepts Mastercard. We don't charge any fees for spending abroad, and we don't mark up the exchange rate – unlike most other banks.
Stay Safe
Your money in Monzo is FSCS protected up to £85,000. Compared to other UK banks, we're 4x better at stopping card fraud, and 3x better at stopping identity theft.
Something a bit different - not a debit card but an app based savings account.....
Download the FREE Chip App from the App Store or Google play and get a £10 welcome bonus credited to your account within 30 days when you use our exclusive code LATESTDEAL10
Chip is different to other money and budgeting apps you might have used in the past. It uses AI technology from over 180 million transactions and analyses your own bank account data to automatically decide how much money to put away by auto-saving cash for you into your Chip account. You can cancel this before it leaves your bank account and also move any money that you want to save manually across too so you get the best of both worlds.
You can also set your own financial goals for things like a holiday, a house deposit or a new kitchen. Whatever you want to use it for, you set your own financial goal amount and Chip helps you painlessly and effortlessly get there but you can always withdraw your money at any time if your circumstances change.
Your money is ALWAYS safe. Chip uses 128 bit encryption for added security on its app and you can only EVER move money between your own bank account and your Chip account never anywhere else.
LatestDeals.co.uk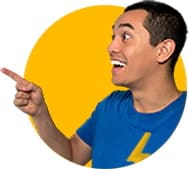 Tom's Tips for LatestDeals.co.uk