Lay-Z-Spa Miami Hot Tub *Reduced To Clear
Available from B&M
40 people like this deal
Get Deal
Description
Lay-Z-Spa Miami Hot Tub
Product code: 331370
£200.00
(RRP £499.00)
Lay-Z-Spa Miami Hot Tub.
Experience a taste of the Miami lifestyle with the Lay-Z-Spa Miami AirJet Hot Tub. Able to inflate in under 5 minutes, heat to 40°C, and accommodate up to 4 people, the powerful integrated 81 AirJet system will make it easy to relax with friends and family.
Thermostatically regulated for maximum efficiency and able to heat, massage and filter at the same time, simply choose your desired temperature and let the rapid heating system do the rest. The portable spa requires no tools to install, simply plug in and relax.
Keeping your spa's water pristine is easy with the integrated ChemConnect dispenser, which is fully adjustable to determine chemical release; simply add multifunction chlorine tablets for easy, no fuss hot tub chemical care.
Unique to Lay-Z-Spa, the Ground Fault Detection System continually monitors for a safe earth connection in your power supply. This coupled with the improved ultra-sensitive RCD helps to deliver double-layered protection so that you can relax in complete peace of mind.
Features:
Adjustable 40°C Rapid Heating System
Comfortably Fits Up To 4 People
81 AirJet Massage System
Easy Set Up & 5 Minute Inflation Time
ChemConnect Dispenser
Ground Fault Detection System
Up-To 2 Year Manufacturer's Warranty
Access to Lay-Z-Spa UK Support Team
Weight: (Filled) - 1.026kg (Approx.)
Water Capacity: (80%) 800L (Approx.)
Dimensions: 1.8m x 66cm (Approx.)
Browse more Hot Tubs online and buy in stores at B&M.
B&M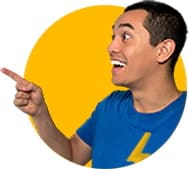 Tom's Tips for B&M
B&M has home delivery on select items available. Look for an orange truck symbol. Standard delivery costs £3.95
When shopping in-store, use the free B&M app to scan bar codes and look for bargains. B&M reduces prices to clear without updating price tags. This creates the famous treasure hunt game. Wednesday morning is when they reduce new products and is the best time to go scanning.