Ravensburger Slimy Joe Game
Available from Bargain Max
33 people like this deal
Get Deal
Description
Deep in the darkest depths of the jungle hides the carnivorous plant, Slimy Joe. He feeds on rate and previously unstudied flutterbies. Quick, can you stick your hand into the slime and save the poor flutterbies from being eaten, before Slimy Joe slams his mouth shut on your hand?
Slimy Joe is an exciting and fun tension-building board game for kids aged 4 years and up. A Yucky Slime filled game that can be won in under 10 minutes! Ideal for 2 to 4 players.
After a long search, you've finally found what you've been looking for. There it is, hidden in the depths of the jungle: the neon green flutterby. It's simply stunning and extremely rare. But wait, what's that? No! A giant slime-dripping mouth snaps shut around it!
Slimy Joe, the carnivorous plant, has devoured the flutterby. And another! You must summon all your courage and act fast! Be brave, reach into the slime and save the flutterbies. Hurry - every second counts! Slimy Joe is still hungry. When is his mouth going to snap shut again?
Contains: Ravensburger Slimy Joe Game
Age: 4 Years+
Batteries: Not required
Bargain Max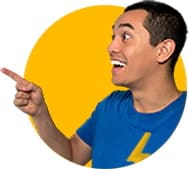 Tom's Tips for Bargain Max
Standard delivery is free for all orders.