Mini Trampoline
Available from B&M
32 people like this deal
Get Deal
Description
After the crazies of the last couple of years, it's nice to see this one available at a sensible price. (probably the cheapest it's ever been)
Mini Trampoline.
Encourage youngsters to get bouncing with the toddler trampoline!
With a spacious jumping mat and a padded safety surround, this trampoline is specially designed for beginners.
It even comes with handlebars for added stability and peace of mind!
Easy to construct, this trampoline also comes with non-slip feet.
The sturdy jump mat and polyester padding ensure maximum safety for young ones as they learn to bounce.
Colour: Blue & Yellow
Non-Slip Rubber Feet
Rubber Handles
Water Resistant
Dimensions: 63 x 55 x 58cm (Approx.)
Weight: 3.4kg (Approx.)
B&M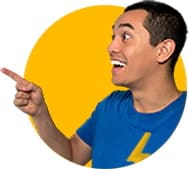 Tom's Tips for B&M
B&M has home delivery on select items available. Look for an orange truck symbol. Standard delivery costs £3.95
When shopping in-store, use the free B&M app to scan bar codes and look for bargains. B&M reduces prices to clear without updating price tags. This creates the famous treasure hunt game. Wednesday morning is when they reduce new products and is the best time to go scanning.