How to Choose the Best Cashback Credit Cards
Updated 4th February 2021
Cashback is one of the most popular rewards credit cards offer. There's no need to worry about where you can spend points, you simply get cash when you spend money. So, what are cashback credit cards and what are the best cashback cards on offer right now?
What is a cashback credit card?
Cashback credit cards are classed as a type of rewards card. Rewards credit cards tend to give you 'points' when you spend money. Cashback credit cards instead give you cash when you spend. 
Every time you make a purchase you earn a percentage of what you've spent back. This is a key advantage over other rewards cards, where you have to worry about where you can spend points and how much they are worth.
How do cashback credit cards work?
Cashback credit cards work by giving you a percentage of cashback on your purchases. For example, if you have 1% cashback and spend £100, then you'll get £1 back. 
This cashback tends to be paid annually but some cards do pay monthly. So, if you spend £5,000 on your 1% cashback card over the period of a year, you'll receive £50 back. 
Most cashback cards will add the amount you earned throughout the year onto your credit card statement. Some cards might credit the cashback into your chosen account or convert it into vouchers. 
Some cashback credit cards might have higher introductory cashback rates. This means you'll earn more back if you spend during the first few months. 
The idea is that you do all of your regular 'everyday spending' on your cashback card and earn cash for purchases you normally make. 
What are cashback rates?
Cashback rates are the percentage of cashback you earn from the money you spend. Each cashback credit card has its own cashback rate. This may vary depending on what purchases you are making and whether there is an introductory period with the card.
The average cashback rate on most of these cards is 1%. However, there are many instances where this may be different. 
Some cashback credit cards offer a higher cashback rate when you spend at certain retailers. For example, you might earn 5% cashback when you shop at a particular shop but only 0.5% back when you shop elsewhere. 
Other cards might offer a higher cashback rate for an introductory period. For example, you might receive 5% cashback on purchases for the first three months before it goes down to 1%.
Lastly, some cashback credit cards have a tiered rating system. For example, you have to spend over £2,000 to receive 2% cashback. Otherwise, cashback would remain at a lower rate of 1%.
How is cashback calculated?
Cashback is calculated as a percentage of what you spend on your card throughout the month or year. This percentage is determined by what your cashback rate is, usually around 1%. The cashback you receive will usually be rounded up to the nearest penny or pound.
If your card offers a flat cashback rate and you know your average monthly spending, this could tell you how much cash you could earn with your card. For example, if you spend £600 a month on a card with a cashback rate of 1%, you'll earn £6 per month as cashback. This will result in £72 cashback a year. 
Your earnings will fluctuate if your cashback credit card offers higher rates on certain purchases, so it can be quick to build up significant cashback! 
Many cashback cards do have a limit on how much you can earn and might cap it when you reach a certain amount of cashback. Read the terms and conditions to find this out. Unlimited cashback cards are available but they tend to have very low cashback rates to compensate.
Do cashback cards charge interest?
Yes. Cashback cards charge interest rates just like other credit cards. Remember, all credit cards are loaning you money - debt. The amount of interest you will be charged is called the annual percentage rate (APR). This tends to be higher on cashback cards than standard credit cards. Avoid paying these high rates by clearing your balance every month and never borrowing more than you can afford. This is why cashback credit cards are best to use for your usual spending, not unplanned purchases.
How to compare cashback credit cards
When choosing a cashback credit card, pick one that will reward you the most for your everyday purchases. Consider what you want from a cashback card, think about the following:
Extra cashback - some cards offer bonus cashback if you go to a particular shop or buy a certain item such as petrol. Think about your current spending habits to help pick the best cashback credit card for you. For example, you won't want to pick a card that offers bonus cash back at Sainsbury's if you do your food shop at Tesco. 
Minimum spending requirement - many cashback cards require you to spend a minimum amount on the card to receive any cash back. If you don't believe you'll meet the minimum spending amount, you might want to look for a card that has no (or a low) spending requirement.
Introductory offer - credit cards with high cashback rates often only offer this for the first few months. For example, a card may be offering 5% cashback for the first three months before it drops back to 1% afterwards. Compare the length of these offers to pick the best one. 
Annual fees - some cashback cards come with an annual fee whilst others may not charge one. However, credit cards with the highest cashback rates do tend to charge a fee. Never choose a card that has a higher annual fee than the cashback you would earn. 
Cashback credit cards golden rules
Does earning cash back for spending money sound good to you? Before rushing in, there are a few rules to follow to maximise the benefits of your cashback credit card.
1. Don't borrow on your cashback card
Treat your cashback card as you would a debit card and only spend money that you actually have. 
Cashback credit cards aren't designed for borrowing as they have high-interest rates and don't tend to offer an interest-free introductory period on purchases.
If you need to borrow money or pay off debt consider 0% purchase credit cards or balance transfer cards.
2. Pay off your balance IN FULL every month
Pay off your balance in full every single month in order to avoid paying interest that will outweigh any cashback you have earnt. 
Set up a direct debit to pay off your balance each month to stop you from forgetting. 
3. Boost your cashback with everyday spending
Use your cashback credit card as much as possible to get the most out of it. This doesn't mean to go into debt by making unnecessary purchases. However, use your cashback card to make purchases you would usually make on your debit card such as shopping, petrol and bigger purchases.
You'll earn more cashback the more you spend, however, you don't want to pay interest so make sure you can pay it back each month. 
4. Make the most of the introductory offer
If you choose a cashback credit card that has a higher cashback rate for the first few months after signing up - make the most of it!
For example, if you receive 5% cashback for the first three months, perhaps make any large purchases you know you need to make during that period. 
Only spend what you can pay back to avoid high-interest debt. 
Do debit cards and current accounts offer cashback?
Many banks and building societies do offer cashback on monthly bills and other loyalty incentives to open an account. 
Debit cards have also joined in and can offer cashback too! Some of the UK's main banks are now paying cashback on some of your day to day purchases. On top of this, some banks are giving customers cashback on direct debits and standing orders, meaning you can earn money back from your bills.
Currently, the following banks are offering cashback incentives on some current accounts: 
Halifax
NatWest
Santander
Lloyds
TSB
Royal Bank of Scotland
Barclays
Get in touch with your bank to find out more information about what cashback offers are available. 
Cashback credit cards: things to look out for 
Does a cashback credit card sound too good to be true? As with everything, there are some downsides to these cards. Here are some things to keep in mind:
High interest - cashback credit cards do tend to have high-interest rates. This makes them suited for people who can afford to completely pay off their balance every month. Any balance left at the end of the month will accrue high interest which could wipe away the benefits of cashback.
Limits - it is common for cashback cards to place limits on the cashback you receive. Check if your cashback will be capped and at what amount. 
Annual fees - cashback cards can have annual fees that might wipe away any cashback you earn using the card. Always check this before applying. 
Restrictions - sometimes there may be restrictions on what you can earn cashback on. For example, purchases abroad and balance transfers might not earn your cashback. Always check the terms and conditions.
Should I get a cashback credit card?
Whether a cashback card is right for you depends on your personal circumstances. These cards tend to only accept people with good or excellent credit scores.
Consider how much you spend each month and where you spend it. This will help you to work out how much cashback you could earn a year. After taking into account the annual fees, you'll know just how much cashback you'll earn and whether a cashback credit card is worth it for you. 
The main thing to keep in mind is that cashback cards do have a higher interest rate. So, it'll only be worth getting one if you know that you can pay off your balance every month to avoid interest. If you end up paying the high interest, the cashback you earn won't be worth it. 
If you spend regularly on your card and can afford to clear your balance each month, a cashback credit card can be a great way to earn money back from your purchases.
I can't meet my minimum credit card payments due to coronavirus. What should I do?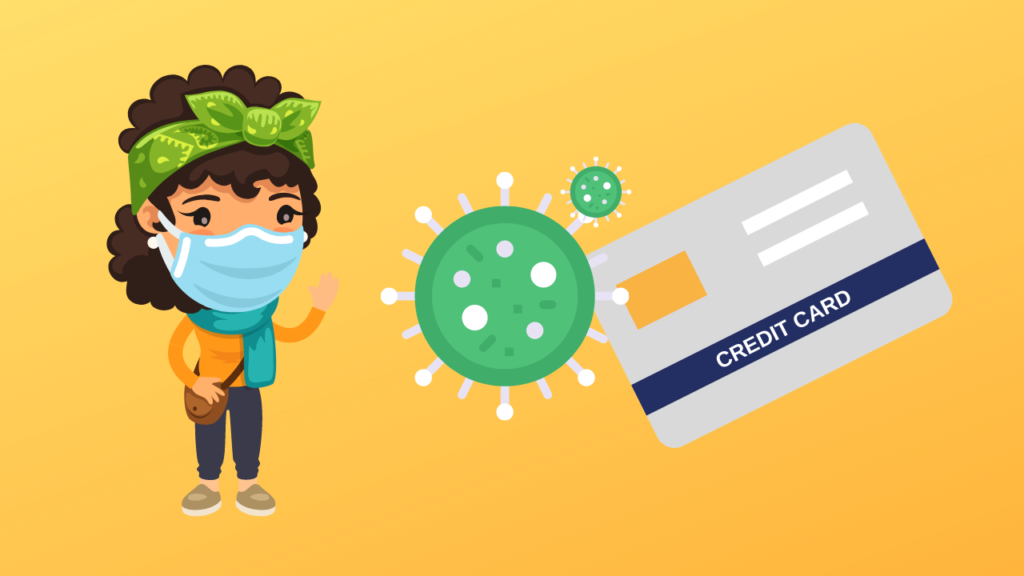 Coronavirus has put a financial strain on many. If you have a credit card and are struggling to meet your minimum repayments, you may be eligible for help.
The Financial Conduct Authority (FCA) has introduced measures that allow you to request a freeze on credit card repayments for 6 months. However, you may still be charged interest in this period.
You have until the 31st March 2021 to request a freeze but make sure you agree with your lender before stopping repayments. This won't leave a bad mark on your credit history either due to the exceptional circumstances.
If you can afford to keep paying, it's best to do so as you will still be charged interest during this holiday period.
All payment holidays must end by 31st July 2021.
FAQs
Do I get Section 75 protection on cashback cards?
Can I transfer a balance to a cashback card?
How many cashback credit cards can I have?
Can I get a cashback card with no fees?
Can I use a cashback credit card to make interest-free purchases?
Can I view my balance and cashback online?
Can I get bonus cashback?
What other rewards cards can you get?
Where can I use my cashback card?
Which store brands offer cashback credit cards?
Can I use a cashback card to build credit?
Is credit card cashback taxable?
How is cashback paid on a credit card?
Can I use cashback towards my minimum payment?
Will I get cashback on items I return?
Will I get cashback on interest or balance transfers?
Are rewards credit cards better than cashback credit cards?
Can you get a cashback credit card with bad credit?