How to Choose the Best Rewards Credit Cards
Updated 4th February 2021
Get rewarded for spending money with a rewards credit card. The best credit cards for rewards give you points to exchange for discounts, vouchers, flights or even holidays. Read our guide for frequently asked questions and advice on rewards credit cards.
What is a rewards credit card?
A rewards credit card gives you points, air miles or cashback in exchange for your spending. It is designed for everyday spending so you can earn more points.
You should only consider a rewards credit card if you can afford to pay off your balance in full every month. Remember, credit cards should really be called 'debt cards.' Fail to pay it off and you will be charged interest, which will offset any rewards you have gained. 
How do reward credit cards work?
Rewards credit cards work by giving you a certain number of points for every £1 you spend. You can build up these points to then redeem them for rewards such as air miles, flight upgrades, hotel vouchers, shopping vouchers and more. 
The type of rewards and value of points will be determined by your card provider and the type of card you pick. This information is very important to help you choose a rewards credit card that works for you.
It costs credit card providers money to offer a rewards programme. This means that rewards cards often charge annual fees and have high-interest rates to justify the incentives on offer. Rewards credit cards can be fantastic if you can pay off your balance every month. You'll want to avoid interest and make sure that the rewards outweigh the cost of any annual fee.
What type of rewards do credit cards offer?
For every £1 you spend on your rewards credit card, you can receive the following benefits depending on which card you choose:
Airmiles 
An airmiles credit card is a type of reward credit card for travel. For every £1 that you spend, you can earn airmiles and other travel perks. 
You can exchange these Avios points for any spending related to travel which includes flights, hotels, car rentals and other perks. 
Reward points
Some credit cards reward you with points when you spend money. The number of points you earn per £1 spent depends on which card you choose. Credit cards that offer reward points are often tied to a retailer or supermarket. You can often earn more points by shopping in-store than elsewhere. 
For example, you might earn 2 points for every £1 you spend in that retailer but only 1 point when you spend £1 elsewhere. 
These points typically accrue over a few months before you are given a voucher to spend at that particular shop.
Only take out a rewards credit card that offers vouchers for places you frequently shop so it benefits you the most.
Cashback
A different type of rewards card is a cashback credit card. These cards give you cashback when you spend money. The average cashback rate tends to be around 1%. For example, you could spend £100 on your cashback credit card and earn £1 back. The cashback you've earnt tends to be paid out annually. 
Alternatively, some rewards credit cards may give you cashback in a similar fashion to a discount. For example, if you eat at So & So Restaurant and spend £10, the credit card may give you £5 back in cashback (this is a real example from American Express). This may be paid within days.
Which credit card gives you the best rewards?
There is no blanket answer for what the best rewards credit card is. This is because what might be fantastic rewards for one person might not be useful to another. 
For example, if you travel a lot, credit cards that reward spending with Avios points may be ideal. However, if you rarely go on holiday, this would be of little use to you. Instead, perhaps a Tesco credit card that gives you points to spend in-store would be much more beneficial.
With this in mind, make sure you consider a rewards credit card that benefits your current lifestyle. Just because one credit card might give more rewards than another, doesn't mean it's the right card for your lifestyle. 
Do debit cards and current accounts offer rewards?
Many banks and building societies do offer rewards including cashback on monthly bills and other loyalty incentives to open an account. 
Debit cards have also joined in and can offer cashback too! Some of the UK's main banks are now paying cashback on some of your day to day purchases. On top of this, some banks are giving customers cashback on direct debits and standing orders, meaning you can earn money back from your bills.
Currently, the following banks are offering cashback incentives on some current accounts: 
Halifax
NatWest
Santander
Lloyds
TSB
Royal Bank of Scotland
Barclays
Get in touch with your bank to find out more information about what cashback offers are available. 
How to compare rewards credit cards
When you compare rewards credit cards, the key is finding one that offers rewards that will benefit your lifestyle. Here are some things to keep in mind:
Type of reward - choose a rewards programme that fits your needs. Whether you simply want cash, vouchers or travel-related perks completely depends on your lifestyle. Some rewards credit cards can be more restrictive than others. For example, some will give you vouchers that you can only spend in one particular store whilst cashback gives you freedom to spend the money as you like.
Rewards earned - the rewards earning rate is how many rewards points you get per £1 spent. The best cards tend to offer at least one point per £1 spent. However, some cards offer more points per £1 spent in some shops but not others. Make sure you're aware of any limits on how many points you can earn in a year. 
Points value - whilst earning loads of points per £1 sounds like a good deal, the actual value of those points is what's important. For example, one card might give you two points per £1 spent but you'll need 2000 points to get a £20 voucher. This means you'll have to spend £1,000 to earn enough points for a voucher.
Annual fee - rewards credit cards that allow you to accrue points quickly or come with additional perks do tend to charge an annual fee. Compare the extra gain you'll get from a certain reward card with its annual fee. If the gain outweighs the fee, then it may be worth it.
Sign-up bonus - many rewards credit cards offer a sign-up bonus in the form of extra points when you first take out the card. Sign-up bonuses tend to be fairly modest unless the card is charging an annual fee. Don't let this be a deciding factor but it is something to compare.
Minimum or maximum limit - do you have to spend a certain amount in order to claim your points? Is there a limit to how many rewards points you can earn? Compare this across rewards cards to find the best deal.
Tips for using rewards cards
Make sure your rewards credit card works for you by following our top tips…
1. Use your rewards card like a debit card
Only spend what you can afford and pay off your debt in full every month. Whilst it may be tempting to spend more for extra rewards, unpaid debt will be charged interest fees. Interest is expensive and will wipe out the benefit of any rewards. 
Use your rewards credit card for everyday spending on things you buy every week like food and petrol.
2. Clear your balance IN FULL every month 
Rewards credit cards tend to have high-interest rates to balance out all of the rewards you earn from the card. If you don't pay off your balance in full every month, the interest will soon mount up and out-weigh any benefits you were gaining from the rewards.
Set up a direct debit to pay off what you spend each month on your credit card in full. If you are doing your normal spending on your rewards card, you'll know roughly how much you'll need to pay off each month. 
Rewards credit cards aren't designed for borrowing - pay it back every month!
3. Tackle your debts before getting a rewards card
You will save much more money by paying off your debts than you would earn through a rewards card. If you have credit card debt, you are likely paying high-interest each month which is making it hard to clear your balance.
If you have debt, consider getting a 0% balance transfer card before a rewards card. Balance transfer cards allow you to shift your existing high-interest credit card debt onto a new card with 0% interest for a set period of time. 
Clear debts first, then think about rewards.
Are credit cards with rewards worth it?
A rewards credit card is worth it if you can clear your balance every month and spend enough to build up reward points. You'll need to be in a strong financial position to both qualify for a rewards card and also to enjoy it comfortably. 
A rewards credit card is only worth it if the rewards benefit you. So, make sure you pick a card with rewards that you'll actually use and benefit from. If points don't appeal to you, then a cashback credit card, or cashback debit card might be more suitable for your lifestyle.
Work out how many points or cashback you get per £1 spent, the value of those points and whether the annual fee is too much. You can then decide whether a rewards card is worth it. 
Rewards credit cards warnings 
There are some things to keep in mind before deciding whether a rewards credit card is worth it for you:
High-interest - rewards cards tend to have higher interest rates than other credit cards. So, if you can't afford to pay off your balance every month, you'll accrue high interest which could cancel out the benefits of rewards.
Annual fee - some rewards credit cards can also have an annual fee. Work out if this annual fee outweighs the benefits or not.
Limitations - check what you can earn rewards from, things like balance transfers and spending abroad might not give you points. 
Reward credit cards alternatives
If you are unsure you could pay off your balance in full every month, some other credit cards might suit you better. 
I can't meet my minimum credit card payments due to coronavirus. What should I do?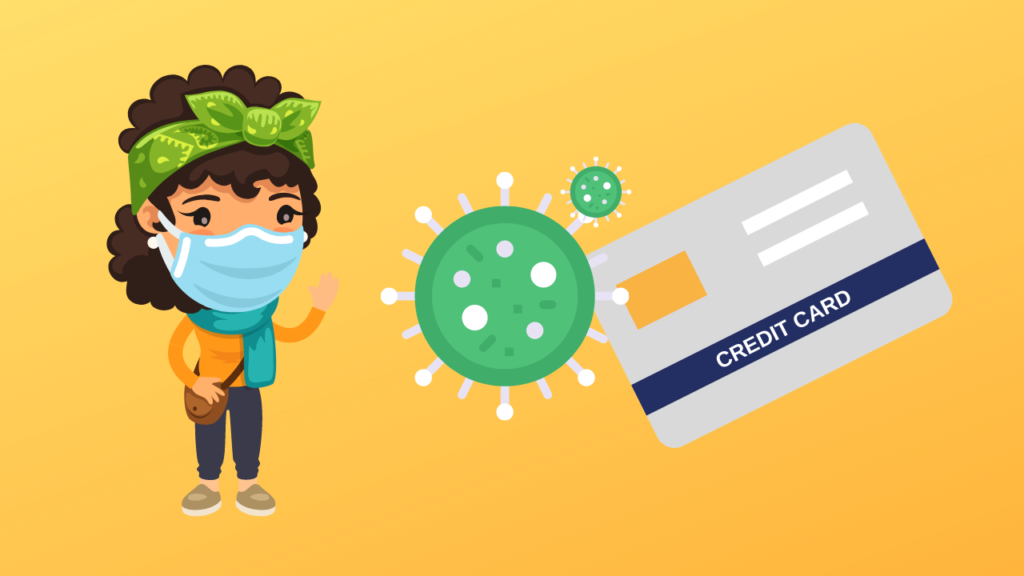 Coronavirus has put a financial strain on many. If you have a credit card and are struggling to meet your minimum repayments, you may be eligible for help.
The Financial Conduct Authority (FCA) has introduced measures that allow you to request a freeze on credit card repayments for 6 months. However, you may still be charged interest in this period.
You have until the 31st March 2021 to request a freeze but make sure you agree with your lender before stopping repayments. This won't leave a bad mark on your credit history either due to the exceptional circumstances.
If you can afford to keep paying, it's best to do so as you will still be charged interest during this holiday period.
All payment holidays must end by 31st July 2021.
FAQs
Do I get Section 75 protection on reward cards?
Can I transfer a balance to a reward card?
How many reward cards can I have?
Is it worth going for a card that gives more rewards in one store?
Can I view my balance and points online?
Can I get bonus reward points?
Where can I use my rewards card?
What charges come with my rewards credit card?
Do reward card interest rates change?
How do I know what rewards card to apply for?
Can I get a rewards card with a bad or no credit rating?
Are Nectar rewards credit cards?