Ultimate Guide to Sim Only Deals: 100GB Data, Contract Free
Available from LatestDeals.co.uk
32 people like this deal
Get Deal
over a year ago - refreshed over a year ago
Description
Howdy! I have made this guide to help you:
Choose the right SIM card
How much data do you really need?
What do you use your phone for?
Are you a chatterbox and love to call your friends? Are you a Netflix addict and watch series late into the night? Or do you play games at every chance you get?
SIM cards vary in features and benefits. Some feature free calls, free social media, or free video streaming.
To choose the right SIM card think about how you use your phone. Not sure? On Apple iPhone, go to Settings > Screen Time to see what apps you use the most. For Google Android, look for Digital Wellbeing.
What types of apps are they: social media, music, video, messaging, games or something else? Knowing what you use your phone for helps to work out what SIM you need, and importantly, to answer the next question.
How much data do I need?
Data is the most important part of a SIM decision these days. If you watch a video, you're using data. If you make a call on WhatsApp, you're using data. If you post a photo on Instagram, you're using data. Data is the stuff of the internet. Generally speaking:
Videos use the most data - Netflix, YouTube, Amazon Prime Video
Video Calls use a lot of data - FaceTime, WhatsApp, Zoom
Photos use a lot of data - Instagram, TikTok, Facebook
Music uses some data - Spotify, Deezer, Apple Music
Games use some data initially, less after you've installed it
Messages use the least data, unless they contain photos and video
Of course, there are many other things you can do on a phone including reading the news, browsing the web and shopping. A rule of thumb is that the more video and images it has, the more data it uses.
Data is measured in 'GB' (gigabytes). You'll see 1GB, 100GB and even Unlimited GB SIMs. So how much do you need? Here are some helpful pointers:
- One hour of video (in standard definition) uses 1GB
- 3-4 hours of video chat uses 1GB
- 10 hours of social media uses 1GB
- 25 hours of music uses 1GB
- 16 hours of general web browsing uses 1GB
Use this information to work out approximately how much you need. But there's an important caveat: do not include the hours you would be doing this using WiFi.
When your phone uses WiFi, it is getting data from your home broadband provider, not through your SIM card. When your phone has the little 3G, 4G or 5G at the top of the screen, that is when it's using your SIM card. OK, now we're ready to move on to the exciting bits!
What SIM is best for me?
It boils down to lots of data or not much data? Good SIM cards have unlimited texts and calls as standard, so don't worry about that.
Pay Monthly or Pay As You Go?
The best value for money is with a pay monthly SIM card. Brands prefer it which means they make them as attractive as possible. Plus, most brands now offer contract free SIMs. That means you can cancel whenever you like - effectively the same as Pay As You Go.
How Long Contract Shall I Get?
There tends to be three options: 1, 12 or 24 months. Normally, the longer the contract the cheaper per month it is. For example,
Vodafone Unlimited Everything
1 month: £37
12 months: £33
24 months: £15
However, before you jump to buy the long-term contract because it's cheaper per month, there are some tips and tricks you should know.
New Brands You May Not Have Heard Of
VOXI, Smarty, Superdrug Mobile. There are many others too (ASDA mobile, GiffGaff, iD Mobile). These new brands are challenging the old by offering new and very attractive SIM deals.
Who are they? VOXI belongs to Vodafone. Smarty belongs to Three Mobile, and Superdrug Mobile also uses Three Mobile (as does iD Mobile). Different brands, same underlying stuff. Why they do it is another story, but what does it mean for you? Better SIM deals with fewer contract obligations.
3 Reasons to Go Contract Free
These new brands offer "contract free" SIMs. They're not really contract-free, just rolling 1 month contracts you can cancel at any time.
If they're crap, you can cancel (hint: they're not)
Extra benefits like free unlimited social media
They can be cheaper than long-term contracts
Example:
VOXI offers 6GB for £10 per month. But this also includes unlimited free social media. You could use 100GB for Instagram, SnapChat, or Facebook and not pay a thing. So there's no need for a bigger, more expensive data plan if that's your primary use of data.
Extra VOXI tip: It sells "add-ons" for music and video which means you can have unlimited Spotify or Netflix too.
My top tip is to look at the new brands like VOXI and Smarty, as well as GiffGaff which isn't so new, but also offers similar things like being "contract-free", unlimited data for not much money.
Is There Any Reason to Go for Old Brands?
Yes. O2, Vodafone, Three Mobile and others do still have their benefits such as reward apps. O2 was the first to do it with O2 Priority: free Caffe Nero, Pizza Express vouchers, free Thornton's. Vodafone was next with VeryMe: Free Costa, free data upgrades, discounts.
They also offer direct customer service. If you have a problem you can call them. The new brands tend not to offer that support: It's all online.
What SIM Does Tom Currently Use?
I've switched over the years, but right now I am with VOXI on a 8GB plan for £10 per month. This includes the unlimited social media I mentioned earlier.
How Do I Find All The Best Deals?
Luckily, Latest Deals has done it for you. Once a month we check all the big phone brands and update a giant spreadsheet with every SIM plan. Then I highlight my top picks.
The giant spreadsheet looks like this, and has Tom's Top Picks at the Top.
Advanced Tip: If you want to filter and sort the Google Sheet yourself, go to Data > Filter > Create New Temporary Filter View
And that's it! I hope you found this guide to SIM cards useful. Please feel free to share it with a friend or family member who may be looking for a new SIM.
About Tom
Tom Church is Co-Founder of LatestDeals.co.uk, a money saving community of 1 million+ members. His tips and advice has featured on BBC, Daily Mail, ITV, Mirror, Express and more.
5 QUICK LINKS
LatestDeals.co.uk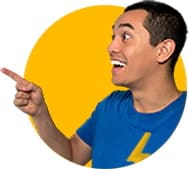 Tom's Tips for LatestDeals.co.uk