20 AMAZING Kitchen Gadgets Under £5 With Amazon Prime Delivery
Available from Amazon
155 people like this deal
Get Deal
4 months ago - refreshed 3 months ago
Description
⚠ You need to click into each individual title of each item which is in blue and bold to see the deals - click the link and it will take you straight to the Amazon page.
Following on from my last weeks post about treats £1 and under with Prime delivery at Amazon which most of you loved, I thought I would do a more practical and useful post!
I have put together 20 useful kitchen helpers and gadgets all £5 or under at Amazon with free Prime delivery. Tom has done a video of his top ten picks from these 20 and all the prices were correct at the time of posting and him buying them but Amazon do change their prices a lot and hopefully you can get them all for around the same prices.
View Tom's Video >>
These are ideal for someone starting out or you might just see something that takes your fancy and think "oooh how have I ever managed before without an avocado box" Let us know what your favourites and most useful and helpful are in the comments!
⚠ You need to click into each individual title of each item which is in blue and bold to see the deals - click the link and it will take you straight to the Amazon page.
1 - Sistema Hydrate Tritan Active Sports Water Bottle 800ml - £4
Keep hydrated with this 800ml bottle - it's also BPA free is that's a consideration for you and has a wide mouth opening so easy to drink.
2 - Silicone Stretch lids Set Of 6 - £2.20
These are fabulous for big tubs of yogurt, cream, cat food, tins of tuna and beans and bowls of salad. Stretch to fit over the top and keep them fresh and stops smells getting in or out and reusable so much better for the environment than cling film too.
3 - Smarter Edge 2 Stage Kitchen Knife Sharpener by Chef's Vision - Was £7.95 Now £4.95
Orange only at this price. Two Sharpening Grooves - Grey carbon sharpeners for dull blades, white ceramic sharpeners for touch-up daily sharpening.
4 - 20 Piece Food Sealing Clips - £4.89
These were £4.99 when they were bought so worth keeping an eye as they seem to go up and down in price daily. 20 food sealing clips 10 × 6.1" in green, 5 × 4.7" in pink and 5 × 4.7" in blue. Helps keep packs of biscuits, sweet, crisps and cooking ingredients fresh. Remove the excess air with your hand then apply the clip.
5 - 2 X Reusuable Toaster Bags - Was £2.49 Now £1.99
If you fancy a quick toasted sandwich but don't want to get the toastie maker out for just one or if you have a toaster in work and fancy a cheap, hot lunch theses are fabulous, Just make your sandwich as you would and pop it in the bag and put the whole thing in the toaster until hot and cooked through. The bags are non-stick and reusuable so can be used time and again - cheese and Branston pickle is my favourite!
6 - Sistema KLIP IT Sandwich Box Food Storage Container 450ml - Was £6.01 Now £2.99
These are great and not just for sandwiches! 50% off and BPA free with 2 clips that help keep the food inside fresher for longer. Plus, they can be put in the freezer, fridge, dishwasher and the microwave (Without the lid)
7 - Sistema Large Soup Mug To Go 900ml - Was £4.85 When Bought Now £6.49 - Keep Checking Back
I own 3 of these are find them invaluable when heating soups, beans, spaghetti and cooking noodles! Large 900ml size so large enough for a full carton of soup and has a vent in the top to stop spills and splatters in the microwave, Great to take to work too as they have a handle so you can safely carry back to your desk and can also be cleaned in the dishwasher too.
8 - KitchenCraft Kitchen Scissors / Bottle Opener Stainless Steel 21cm - Black - £2.95
Kitchen scissors always go missing in my house so I have a few pairs stashed around and these type are great as they are tough and don't have flimsy handles that bend and don't cope with heavy cutting. These also have a built in bottle opener and get amazing reviews of 4.5 / 5 from over 2000 feedback.
9 - RED Automatic LED Night Light Dusk 2 Dawn LED Sensitive - £4.99
Also available in white or blue for the same price. These are great as they automatically turn on at dusk and turn off at dawn so if you come down in the night to get a drink or make up a babies bottle, you can still see what you are doing without having to turn on the main light and blind yourself in the process! Also great for babies rooms as the red light reminds them of the womb!
10 - 3 x 500ml Baylis & Harding Sweet Mandarin and Grapefruit Hand Wash - Was £6 Now £3.75
Not so much a gadget but these hand washes smell great and get the stubborn smells of fish, onion and garlic off your hands without drying you skin out. Super value working out at £1.25 each and they are big 500ml sized bottles too.
11 - 2 Pack Cable Tidy Management Sleeves - Was £3.49 Now £2.99
You get 2 x 60" long sleeves plus 20 cable ties and a wire guide clip. These are great to hide all your wires for all your gadgets and can be cut down to the size that you need easily too.
12 - Plastic Reusable Vegetable Storage Box Avocado Safe Box - £2.99
Also available for bananas at £4.99 and lemons at £2.99 on the same listing, just change the "item shape". If you like avocado for a snack or breakfast but don't eat a whole one then this little gadget will keep it nice and fresh for nice time. If you are fed up taking a bruised and bashed banana to work then the banana case will keep it bruise free and the lemon case keeps your lemons juice for cooking or ice and a slice in your drinks!
13 - Vegetable Slicer Handheld Spiral 2 in 1 Manual Vegetable Slicer - £2.49
If you are trying to cut out carbs but still crave something that resembles pasta and noodles then this nifty little gadget is your friend! Make spirals and noodle shapes from cucumber, courgettes, squash, carrots, radishes and sweet potatoes with 2 blade sizes and is all dishwasher safe too.
14 - Chef Aid Corn Cob Forks, Pack of 12 - £2.38
If you love some corn on the cob smothered in butter and black pepper but not so much the messy hands then these corn forks take almost all the mess out of it. Put on either end and pick up and eat your corn but it won't clean up the butter off your chin! They are really cute as they are in the shape of corn too.
15 - Set Of 6 Rainbow Reusable Silicone Straws with Cleaning Brush - Was £6 Now £3
How many times do you go for fast food and hate the paper straws that disintegrate before you finish your drink? These are super handy and environmentally friendly around the kitchen, to keep in the car or even your bag and come with a cleaning brush too so you can clean them properly - plus, they are thick enough for a McDonald's thickshake too!
16 - Set Of 3 Potato Peeler, Avocado Cutter & Kitchen Fruit Peeler - Was £3.99 Now £3.49
There are lots of fancy peelers on the market but I don't think you can wrong with a basic peeler that does the job super fast too! The bonus with these is you get a set of three all with non-slip handles and a special Avocado cutter and a fruit peeler too - only £1.16 each
17 - Flamingo Ice Cube Tray - £3.89
Who doesn't love a novelty shaped ice cube in a tropical cocktail to make you feel like you are on holiday somewhere hot and exotic? These are made of silicone and can even be used for making shaped chocolates or mini jellies too
18 - Microwave 2 Egg Omelette Maker - Was £1.75 when Tom bought it but now out of stock but look at other sellers and you can get it for £4.42 or wait for more stock to come back with Prime.
Quick, cheap and tasty lunch without getting the frying pan out and you could even take to work if you have a microwave there. 2 eggs plus your choice of filling and BPA free too - winner!
19 - 16 x Coffee Barista Stencils - £3.09
Make frothy coffee and home for a fraction of the price and put your own stamp on with this set of 16 Barista stencils. Just place on top of your drink and shake over some cocoa powder and pull straight up to reveal your design. Includes classic coffee beans, love hearts, a super cute panda, the sun, a Christmas tree and more!
20 - 8 x 30cm x 30cm Microfibre Cleaning Cloths - £4.75
These are great if you want to cut down on disposable clothes for cleaning your kitchen appliances and worksurfaces. Great for cleaning glass and windows and when you are done, just pop in the washing machine and they dry super fast too.
Amazon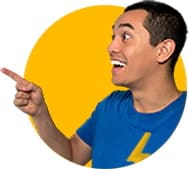 Tom's Tips for Amazon
Free Trials, Tools & TipsGuides