Glitch Deals
glitch Sale, Voucher Codes & Offers in December 2023
Don't you just love a good glitch? Your favourite items at unbelievable prices! Our community of enthusiastic bargain hunters are amazing at finding glitches (read how to find a glitch). Whether it's sneaky trick, misprice, or website mistake, you can get insane offers and discount codes if you're quick. Get discounts of up to 100% off! But buying glitches comes with a warning, read this glitch FAQ first.
Read more
| | |
| --- | --- |
| ⚡ Total Offers: | 682 |
| 🛍️ Active Deals: | 0 |
| 🕰️ Last Updated: | Today |

Good or Bad?
Rate deals, earn Amazon vouchers!
Play Now
Great offers, shared by real people
Latest Deals is for bargain hunters - we share genuine deals, vouchers, freebies and competitions.
Tom Church
Co-Founder &
Chief Bargain Hunter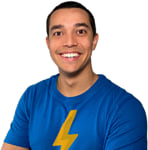 Information
Once in a while, glitches happen. This is common in the online world where one typo error can cost so much. Pricing errors are very entertaining. You can get unbelievable savings and discounts if you successfully purchased the deal. Even though there are instances that the retailer won't honour the transaction especially if they receive alerts of the glitch, it will not matter that much because if the transaction flows smoothly, you hit the jackpot.
This is a big win to bargain hunters. After all, not getting that discount you wish you'd get is the only negative outcome you can expect - but if they say yes to honouring their pricing error, you get to save a couple of pounds off that transaction, and that's what matters most.
Our community of bargain hunters are always on the lookout for the greatest tips and techniques on how to get tremendous savings online. They sure are good at finding glitches and mispricing! Get insanely low offers and up to 100% discounts on price glitches and website errors from UK retailers such as Amazon, Boots, Missguided, Urban Outfitters, Wilko and Argos. It's definitely worth the try.
Types of Online Glitches
Familiarise yourself with the different type of online glitches you can take advantage of.
Massive discount on iPad from Tesco's online glitch
Free Shipping. There are select items from retailers that do not qualify for free shipping, and sometimes, shipping fees would run for a couple of pounds, but with free shipping glitches, you can request to have the purchased items delivered with the full price of shipping waived.
Items priced at £0 or free. You can own that good stuff you have been eyeing without paying for it – well, except for the shipping fee.
Voucher code stacking. This will allow you to use multiple voucher codes that can earn you massive savings. For example, you can use that free shipping voucher along with a 20% off voucher plus another 50% discount.
Free items. There are glitches that will allow you to purchase item A and get item B for free. Oftentimes, the item B is much pricier than item A. This is a sure win for consumers.
Discounted Sale Price – The greatest sales often happen because of glitches. The savings are unbelievable that the retailers work hard for such thing not to happen. But, hey, errors are inevitable and price glitches, fortunately & unfortunately, happen. i.e. 50% off the 30% price (first sale discount). That's like a sale on a sale.
Awesome Deals from Previous Price Glitches
It is not possible to list all of the cheap deals people got online from pricing errors, but here are a few. Get a few ideas on how much savings you can potentially get from price glitches.
Argos Xbox Minecraft bundle glitch
Free Polo Shirts from Jos. A. Bank. The website did not even bother to ask for any payment details. It was just as easy as adding the items to your cart and inputting your shopping address. Tada! You get free polo shirts plus free shipping.
£89.99 instead of £349.99 for Xbox bundle from Argos. This had Xbox shoppers go wild. The glitch caused Argos to shut down their website for 14 hours. Imagine that there were thousands of consumers who logged online to take advantage of this price slash by more than two thirds.
£229 for £543 PS4 Pro Bundle from Currys. The price glitch happened on Black Friday. Of course, there were hundreds of transactions that took place. Currys spotted the glitch quickly and cancelled all orders. In the spirit of Christmas, Currys sent them a £313 gift card that they can use to purchase that PS4 Pro Bundle or on whatever item they want.
A penny for each of over 75 million items from Amazon. There were various merchants and retailers that were affected of this glitch that took place way back 2014. They received notifications that their items are being purchased online for just a penny. Although Amazon managed to cancel most of the orders made, there were still some who were able to luckily get their items on insanely low prices.
Winter coats. Video games. An incense holder. These, along with hundreds of items, were available for a penny on
Amazon.com
for about an hour or so on Friday evening in the United Kingdom.
Things to consider if you purchase an item on its price glitch rate
You have to pick the Fastest Shipping Method. You have to make sure you get your hands on whatever item you ordered online on its incorrect price as soon as possible. Once an order is processed, usually the fulfillment department will be notified right away, and they will be on their way to process your order. If it costs a bit more to have the shipping expedited, just do it. After all, it'll still pay off on the discount you will receive. Have the items shipped to you ASAP before the retailers cancel your order.
DO NOT Contact the Merchant. Do not blow this chance of getting a pretty sweet deal away. All you have to do is wait. Even if you have inquiries, just wait for the item to arrive first. By contacting the retailer, they will be notified of your transaction and could spot the price glitch, thus exposing yourself to the possibility of having that order of yours cancelled. You won't want that.
What Causes Price Glitches and Pricing Errors?
There are multiple factors that we need to put into consideration for every glitch that takes place. First off, it can possibly be caused by human error. We are prone to errors and a simple incorrect push of the keyboard can bring about a completely different outcome. Also, it can be caused by a computer glitch. There are even instances that marketing strategists place glitches on purpose online. This is to attract more people and bargain hunters just like us.